An electronic leak detection survey is a proven and reliable method of locating flat roof leaks. Surveys are carried out on the roof itself without causing
any damage to the roof surface. Our surveyors will identify the location of all leak sites and detail these in a clear and concise report so that repairs
can be easily carried out.

A flat roof leak can be an extremely costly and disruptive problem.
Our electronic leak detection surveys are an extremely powerful and thorough method of inspecting roof areas for a flat roof leak.
When a flat roof leak occurs, water enters the roof and can travel some distance before entering the building. A flat roof leak such as this can be extremely
costly due to damage caused and disruption to the operation of buildings.
We carry out electronic leak detection surveys using either 'wet test' or 'dry test' methods to identify all ingress points within a flat roof.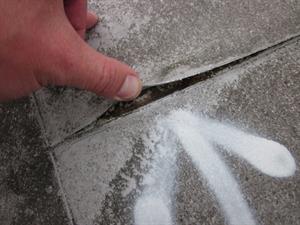 An electronic leak detection survey is carried out on the flat roof itself by our trained
and certified surveyors. No damage is caused to the roof and we are able to identify all flat roof leak points on the roof itself and on any interfaces
& upstands.
Roofing companies are not always the best people to advise on condition of roofs as they have a vested interest in carrying out major refurbishment work
or roof replacement activities.
Our electronic leak detection survey is a completely independent and professional inspection. We do not carry out repair work or remedial work so have
nothing to gain by misreporting a flat roof leak.
An electronic leak detection survey is usually carried out:
To locate flat roof leaks
Prior to expiry of warranty to prove that a roof is leak free
After repair or renewal work to prove effective installation
Following a survey we produce a detailed professional report within 4 working days which highlights our findings. The report contains digital images along
with analysis and our recommendations.
Electronic Leak Detection Survey – Flat Roof Leak Sample Report (5682 KB)
Prior to the survey we will provide a full risk assessment and method statement detailing how we conduct the survey and the precautions we take to ensure
our work is completed safely and efficiently.
Contact Pixel Thermographics to discuss how we can go about finding roof leaks for you and let us provide you with a completely free quotation by just
giving us a few details such as roof materials, size and location.
Contact us