Pixel Thermographics carry out mechanical thermal imaging surveys throughout the UK. Rotating mechanical equipment such as pumps, motors, drives and gearboxes are surveyed to identify a range of problems which can lead to breakdown or damage. Thermal imaging of mechanical equipment is carried out while plant and equipment is running normally.

Our highly experienced and certified engineering surveyors carry out mechanical thermal imaging surveys throughout the UK and overseas.
Surveys are carried out while plant and equipment remains running so you will see no disruption to your normal operations while a mechanical thermal imaging survey takes place.
Mechanical thermal imaging surveys are carried out on the following types of plant and equipment:
Motors
Pumps
Motor Gearboxes
Bearing Housings
Couplings
Heat Exchangers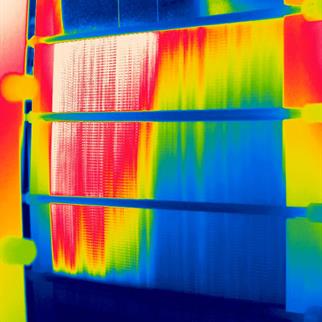 A survey will highlight problems such as bearing failures, misalignments, overheating drives, ineffective cooling, damaged drives and blocked or inefficient heat exchangers.
Mechanical thermal imaging surveys are a powerful and cost effective way of identifying problems with drives, particularly where there are large numbers of drives or motor / gearbox units which are not inspected or checked using vibration analysis.
Typical industries where we carry out regular inspections include airport baggage handling systems, food manufacturing conveyor systems, automotive industry applications and waste reclamation / recycling facilities.
Our survey is carried out on foot using hand held thermal imaging equipment and many drives can be inspected in a short space of time making mechanical thermal imaging surveys an extremely cost effective method of identifying problems before they cause a breakdown.
Mechanical thermal imaging surveys of heat exchangers can help identify the following issues:
Blockages
Restrictions
Leakage
Scale Build Up
Sediment Build Up
Our specialist professional surveyors work across all industry sectors to carry out surveys and will offer advice as to cause of mechanical problems within our detailed report.
Reports are issued a short time after completion of the survey and are issued in printed & bound format as well as electronic formats.
Mechanical Thermal Imaging Surveys Sample Report (1607 KB)
Contact us to discuss thermal imaging and provide some basic details such as location, number of drives, type of drives or equipment and we will be able to provide you with costs and availability for a survey.
Contact us