Residential thermal imaging surveys are carried out to identify the causes of cold rooms, areas or whole houses. Our highly experienced and certified professional surveyors will conduct a survey both internally and externally to identify the issues throughout the property. We then detail our findings in a clear and practical to use report.

We specialise in carrying out residential thermal imaging surveys.
Our professional and experienced surveyors have carried out hundreds of residential thermal imaging surveys across the country to identify problems with people's homes.
Types of properties include detached houses, flats, apartments, show homes, stately homes, blocks of flats and retirement living properties.
We only use the highest resolution thermal imaging equipment to allow us to detect anomalies and identify the root causes of cold buildings or rooms.
Residential thermal imaging surveys are carried out to identify the following defects:
Cold Buildings & Cold Room
Causes of Heat Loss
Causes of Draughts & Air Ingress
Assess Insulation Performance
Identify Thermal Bridging
Assess Performance of Windows & Frames
Causes of Damp & Water Ingress
Surveys are carried out on foot using hand held thermal imaging equipment. This means that there will be no major disruption within your home or property while a residential thermal imaging survey is being carried out.
The technique in completely non-invasive and non-destructive meaning that the building suffers no mechanical or physical damage at all.
Over ten years of service we have developed a procedure which allows a complete residential thermal imaging survey to be undertaken allowing us to always identify the problem or problems.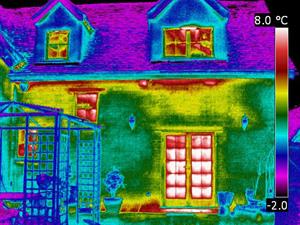 As part of the inspection procedure we utilise a blower door system. We use this equipment to put the building under a negative pressure and this allows our surveyors to identify the cause and locations of draughts.
Draughts and air movement in homes typically account for 60% to 70% of all issues within residential thermal imaging surveys.
Surveys are usually carried out early morning or later in the evening. This is to ensure any solar loading (effects of the sun) are eliminated and to ensure a temperature difference of at least 10°C between inside and outside areas.
 Residential Thermal Imaging Sample Report (1149 KB)
Contact us for a free quotation for a residential thermal imaging survey. All we need are a few details such location, type of building, number of bedrooms and your specific issues.
Contact us