Pixel Thermographics carry out aerial thermography surveys to obtain unique views of areas which may be impossible from a ground based survey. Surveys
are usually carried out from helicopter of fixed wing aircraft but we also operate a 16 metre extending pole system allowing us to gather close up
thermal images of particular areas or buildings.

Aerial thermal imaging or aerial thermography surveys can be conducted relatively easily and inexpensively.
We arrange all aspects of the survey including aircraft (usually helicopter or fixed wing), survey equipment and departure points. We use a number of aircraft
providers throughout the UK who are able to provide the best survey vehicle for each inspection.
Aerial thermal imaging or photography surveys allow a unique view of buildings or areas which cannot be gained from a ground based survey and can be a
cost effective method of surveying large areas.
We only use the highest resolution thermal imaging equipment available which is critical for surveys of this type where we may be some distance above the
target.
Pixel Thermographics carry out aerial thermal imaging surveys to:
Map Underground Landfill Fires
Identify Water & Steam Leaks from District Heating Systems
Identify Heat Loss From Buildings
Conduct Large Area Heat Loss Surveys
Identify Flat Roof Leaks
Identify Discharges into Watercourses and Rivers.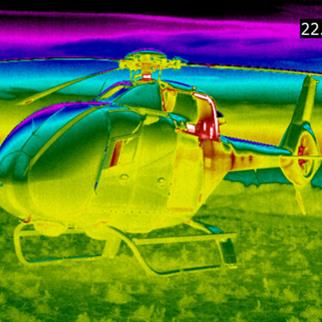 For
smaller or localised aerial imaging we also operate a mobile 16m extending pole system which allows us to get unique views of buildings or areas from
close range.
As well as aerial thermography, we are able to carry out aerial photographic surveys using professional photographic equipment and highly skilled and experienced
photographers to gain that unique and individual photograph.
We have carried out photographic assignments from helicopters and fixed wing aircraft and can advise you of the best method to gain the images you require.
Whether it is an aerial thermal imaging survey or aerial photographic assignment you require then contact us to discuss options and costings.
Aerial Thermal Imaging and Photography Sample Report (1269 KB)
Prior to a survey we will provide a full risk assessment and method statement detailing how we conduct the thermographic survey and the precautions we
take to ensure our work is completed safely and efficiently.
Contact Pixel Thermographics to discuss how we can help you and let us provide
you with a free quotation by giving us a few details.
Contact us