Electrical Thermal Imaging Survey
We were contacted and instructed to carry out an electrical thermal imaging survey at Atlantic Plastics in Bridgend following a request from their insurer. Our surveyor visited the site over a two day period and identified 15 electrical faults, of which 5 were deemed critical. No interruption to normal operations occurred during the survey.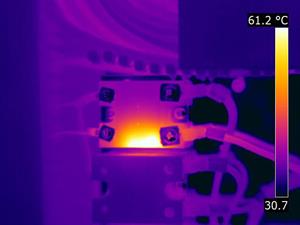 The large site comprised of numerous electrical distribution systems, plant control panels and an array of different injection moulding & CNC equipment.
After ensuring all necessary permits were signed off our surveyor was given a walk round the site to familiarise themselves with the layout and type of
equipment.
The survey was carried out over a 2 day period with a site electrician accompanying our electrical surveyor and assisting in opening the panels to allow
an effective inspection.
A total of fifteen faults were identified during the course of the survey. Our surveyors have strong electrical backgrounds and are able to analyse the thermal image, take current readings and then provide details as to the cause of the problem and what is required to fix the problem and prevent a breakdown.
The faults identified included:
Loose connection on busbar tap off box
High resistance terminal connection in rear of main switchboard
Poor connection from contactor
Failing solid state relay
Loose neutral connection in heater control panel
Poor connection on circuit breaker in distribution board.
Our survey report was issued to the client within 3 working days of completion of the survey and the faults were repaired based on the severity of the faults.
The client now has an annual survey completed of the site and electrical faults and dramatically dropped as a direct result of this preventative approach.
"
Thank you for the report. It is excellent both in results and recommendations. We will action the important ones straight away and aim to have the rest closed down within a couple of weeks. Once we have done this we will get you back in on a convenient date to re inspect the remedial work. I have asked that this service is put on our annual wiring inspection and done yearly, as well as forwarding on the report to other contacts that I have as a reference for you!
"
Ian Savidge – Engineering Manager – Atlantic Plastics Ltd (Trading as Tyco Waterworks UK)