Thermal Imaging Roof Leak Survey – AA Building
A regular client asked us to conduct a thermal imaging roof leak survey at the AA head office in Leicester to identify the cause of internal leaks. Environmental conditions are crucial to conducting a successful survey and we attended site during the evening when conditions for a survey are best suited. A total of 21 leak points were identified.
Thermal imaging roof leak surveys are carried out in the evening when daytime temperatures are dropping and which allows us to detect moisture within roof systems.
All necessary permits and paperwork were reviewed, signed off and a walk of the roof during daylight hours was carried out to ensure all barriers and access routes were clearly visible and in position.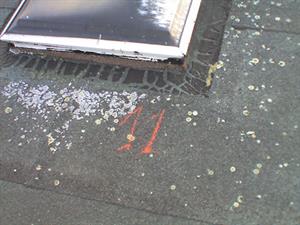 Survey work commenced before sunset and our experienced Thermographer worked systematically across all areas of roof to be surveyed.
Where thermal anomalies were detected and confirmed as holding moisture, then these areas are marked and inspected thoroughly to identify the water ingress point or points.
The survey concluded with a total of 21 water ingress points identified across the roof. Some minor damage to the roof but the majority of leaks originated from upstand and edge details of skylights and AHU units on the roof.
The thermal imaging roof survey was powerful in clearly demonstrating the extent of water ingress within the roof and also confirming the actual ingress points. This provides the client with clear and unquestionable information to allow them to apply for funds to carry out repair work. It also meant that repair work could be carried out rather than replace the whole roof which would have been a considerable expense.
Our report with full details and locations of all leaks was issued within 3 days of completing the survey which was conducted in one visit.
"We like using yourselves because you always turn up and find the root cause of the problem!"
Dan Patterson – Project Engineer Drewmark Building Services